4 Lactation Cookies Recipes You Can Try Baking in Singapore
Mar 08,2021 | Cookiedealersg
Breastfeeding is a crucial stage for a child's development. Often, mothers have trouble with it because not every mum can produce the required amount of milk. In the US alone, over 50% of women believe that they cannot produce enough breast milk.
However, you can supplement your child with all the nutrients needed just by consuming lactation cookies. And that is why we're sharing some of the best lactation cookie recipes so that you can make them yourself at home.
What is a lactation cookie?
Otherwise known as breastfeeding cookies, lactation cookies are filled with all the essential nutrients called galactagogues that help increase your breast milk production. With increased breast milk supply, you can breastfeed your baby without any worries.
Primary ingredients in lactation cookies
Before diving into the recipes, it is crucial to know the primary (or rather the common) ingredients first. Typically, lactation cookies have four chief ingredients. 
Flaxseed 
Flaxseed contains omega-3 fatty acids, and they are an excellent source of dietary fibre. It also contains vitamins B and E, potassium, and iron. Flaxseed improves your bowel movements and helps with digestion as well.
Brewer's yeast
Brewer's yeast is another ingredient used for all lactation cookies. It is rich in vitamins like selenium, chromium, and vitamin B. These are essential for boosting your energy and helping digestion.
Fenugreek 
A popular herb used for centuries because of its ability to help develop milk for breastfeeding. It contains phytoestrogens, helping stimulate lactation and maintain milk quality.
Oats 
Oats are an excellent source of fibre. It slows the absorption of carbohydrates by the bloodstream and helps prevent spikes in blood sugar as well. Overall, it is very nutritious and has a lot of health benefits.
Other ingredients in lactation cookie recipes
If you're more adventurous and are willing to try different ingredients, we've compiled a list of foods that have been proven to increase your breast milk supply.
Things to avoid in lactation cookies
While it is essential to know the ingredients, it is also crucial that you know what to avoid in lactation cookies. Although brewer's yeast is a primary ingredient, you should try and avoid using it if you have any allergies. You can try substituting it with baking yeast or nutritional yeast.
Recipes you can try
Now let's talk about the recipes you can try to make some delicious lactation cookies. There are many ways to make them. But I have listed some of the best recipes for you. So in no particular order, these are the recipes. 
Lactation Cookie Recipe by Housepoet 
Let's start the recipe list by taking a look at the lactation cookie by Housepoet. This lactation cookie recipe is one of the first ones that started the trend. And over the years, the same recipe has been modified. And this recipe was before any premade lactation cookies were available. Here is what you will need for this recipe.
4 tablespoons of water
2 large eggs 
1 cup of butter or coconut oil 
2 tablespoons of flaxseed 
1 teaspoon of bi-carb soda
1 cup of brown sugar 
1 teaspoon of vanilla extract
3 cups of oats 
2 tablespoons of brewer's yeast 
1 teaspoon of salt 
1 cup of chocolate chips
2 cups of plain flour
How to bake them
Mix the 2 tablespoons of flaxseed and water and leave it aside for 3-5 minutes
You can preheat the oven to 170 degrees Celcius.
Beat the butter, sugar, and add the eggs
Mix the flaxseed mixture along with vanilla extract and butter mix
Sift the dry ingredients and add to the mixture 
Stir it with the oats and add the chocolate chips
Scoop the dough to the desired size and place it in your baking tray
Leave it for 8-12 minutes in the oven.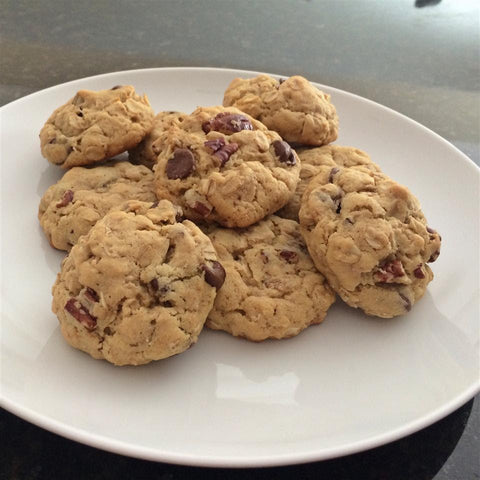 Source: http://www.thebreastfeedingcenter.com/files/46628276.pdf
Healthy Lactation Cookie Recipe from DetoxInista
This next chocolate chip cookie recipe is similar to the previous recipe. It will just take 20 minutes of your time and bakes a heavier serving of 24 cookies. Here are the ingredients you will need.
½ cup of water 
¼ cup of brewer's yeast 
1 cup of coconut oil 
1 teaspoon vanilla 
2/3 cup of chocolate chips 
2 cups of oat flour 
6 tablespoons of coconut oil 
¼ cup of flaxseeds
½ teaspoon of baking soda
½ cup of oats 
¼ teaspoon of sea salt 
How to bake them 
Stir the flaxseeds in a bowl along with the water.
Add all the other ingredients like coconut oil, yeast, vanilla, baking soda etc.
Add the flour and stir into a dough.
Scoop them into the baking sheet 
Preheat the oven at 180 degrees Celcius
Bake them at 180 degrees Celcius for about 10 minutes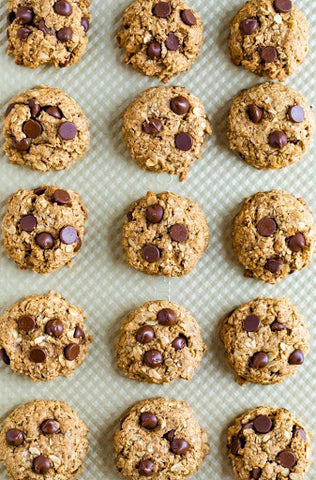 Source: https://detoxinista.com/vegan-lactation-cookies-gluten-free/
No-bake Chocolate Lactation Cookie (Vegan) Recipe by Lexi's Clean Living
This next recipe is unique because of the "no-bake" approach. It is easy to make with lesser cleaning needed! The ingredients you will need are:
2 cups of oats
⅓ cup of grounded flaxseed
1/4 cup of brewer's yeast 
½ cup of honey (or an alternative, if you're not comfortable with this)
1 cup of nut butter
¼ cup of Chia seeds 
2 tablespoons of cocoa powder
½ cup of chocolate chips 
How to make them 
Mix all the ingredients in a large bowl 
Scoop them into small balls 
Keep them in the fridge and wait for them to chill before consuming
You can keep them in the fridge for up to 2 weeks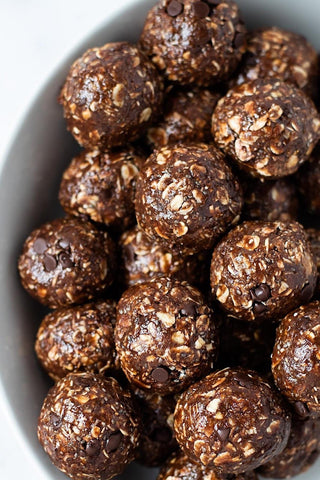 Source: https://lexiscleankitchen.com/chocolate-no-bake-lactation-bites/
Orange Chocolate Chip Oats Lactation Cookies 
This recipe is excellent if you love oranges. The base ingredients for lactation cookies remain the same but with an added orange flavour. Here is what you will need.
40 grams of melted butter
1 teaspoon of vanilla essence 
1 cup of oats 
1/5 cup of baking powder 
1 egg
2-3 tablespoon of flour 
1 tablespoon of orange zest
50ml of orange juice
¼ cup of brown sugar 
20 grams of dark chocolate chips 
How to bake them 
Mix all the dry ingredients in one bowl
Whisk and mix all the other non-dry ingredients in another bowl
Now mix both mixtures 
Add the chocolate chips after the mix
Scoop them out into your baking tray
Put it in the oven and bake it for 10-12 minutes at 180 degrees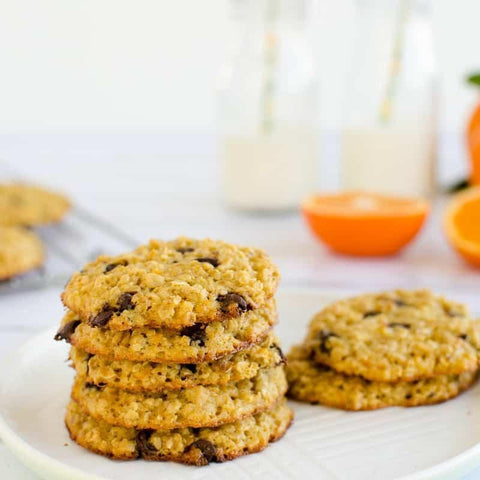 Source: https://mykidslickthebowl.com/orange-choc-chip-oat-cookies/
Wrapping Up 
Lactation cookies are delicious, and they are must-haves for mums. But it should also have the right ingredients to taste good while providing you with your desired results. You can try these 4 recipes, which are easy to make and only takes up 30 minutes at most! Alternatively, you can also grab some of our delicious freshly baked lactation cookies that are popular with mums in Singapore!
Comment